Hi all!
Thought i'd share a "how to" and modifications I've done to my Denix M1928A1 Thompson, as there doesn't seem to any how to's with pics floating around. I can't afford a De-Ac, so i thought i'd make mine as close as possible. Yeh, i know its pot "monkey" metal, but it's easy to work with!
I bought My M1928A1 from War & Peace last year for £75. I cheekily got it reduced by £20 as it was the last one and Ex-demo, and was missing the sling swivels. I picked up an original M1928A1 Horizontal Fore-Grip and Butt Stock for £30 including the swivels (which SOF sell the swivels for £10 each!!), so I got a bargain there!
Here's what it looks like now, after hours of filing, faffing and fettling! The butt stock is removable as it should be.
I'll split the mods into sections starting with...
Swapping The Horizontal Foregrip
You can pull the barrel away from the main receiver at the end of the fore grip, by gently wiggling it, or gently levering with a screwdriver between the grip and receiver. That helps to separate barrel and grip so you can work on it easier. I'd put it back in with a bit of Loctite to stop it moving once finished.
Grab a flat blade screw driver and put between barrel and grip and gently prise grip away from barrel, then you'll see what is holding the grip on! It's only held in place by a tiny nail, but is a sod to get off! Perseverance is key, levering each end in turn till it pops off. Try and do this with minimum damage to the Denix fore grip. Once removed I later sold both Fore and buttgrip on ebay bringing the overall costs down further.
If you have an original M1928A1 fore grip, offer it up to the barrel rail and mark where the hole is with a nail or marker pen. Then you'll have to find a suitable bolt (if you don't have the original). Drill the barrel rail at an angle and then tap it with the correct thread size for the bolt and that's it! I cut down a hex bolt and rounded the ends with a grinder and cut a slot into it to appear like an original bolt.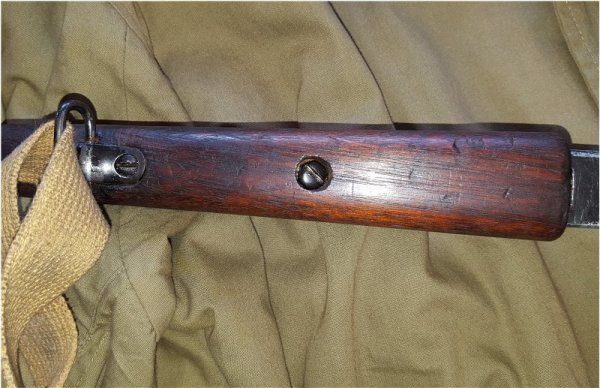 Fitting The Buttstock
As you can see the buttstocks are a different shape, and the original M1928A1 has a button to release it from the receiver. By offering the new original M1928A1 buttstock up, it's clear if you file the sides of the receiver where the rails are, you can get it to slide on. All you need to do is to measure, mark out and cut out a rectangle on the bottom of the receiver to allow the locating peg from the buttstock to spring up and locate firmly. Spend time carefully filing till it fits. Fill the receiver outer bolt hole with chemical metal, then drill and tap it to fit a suitable retaining bolt.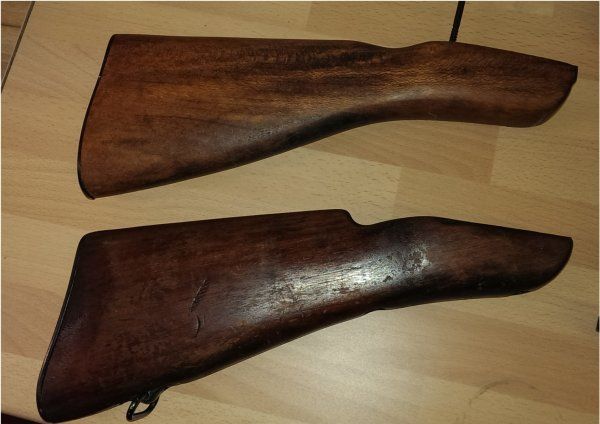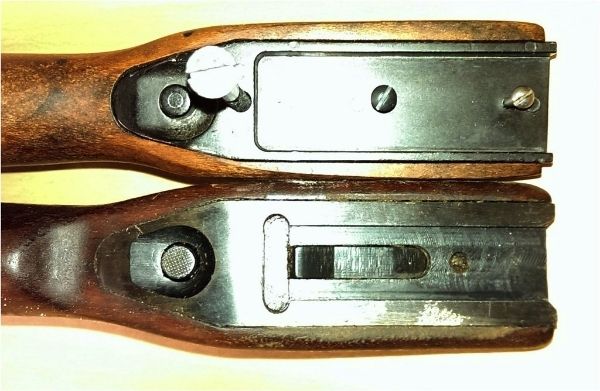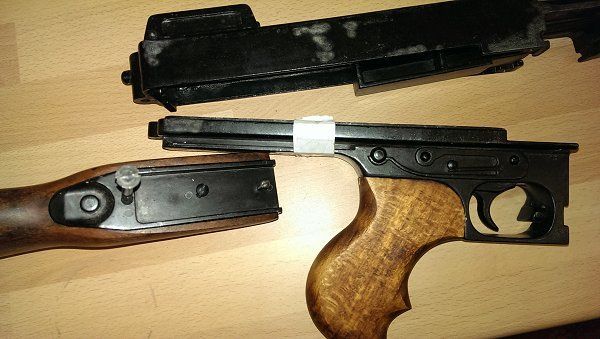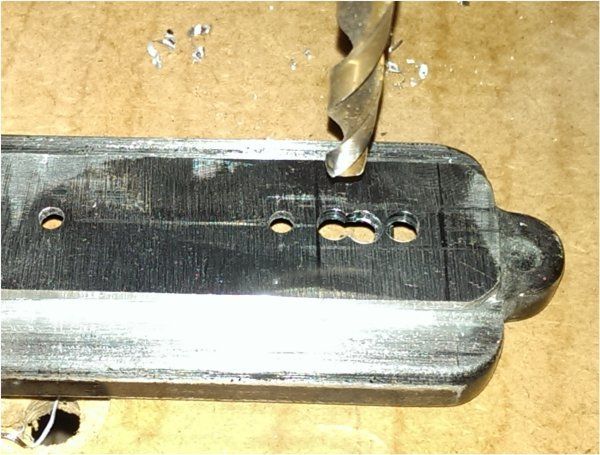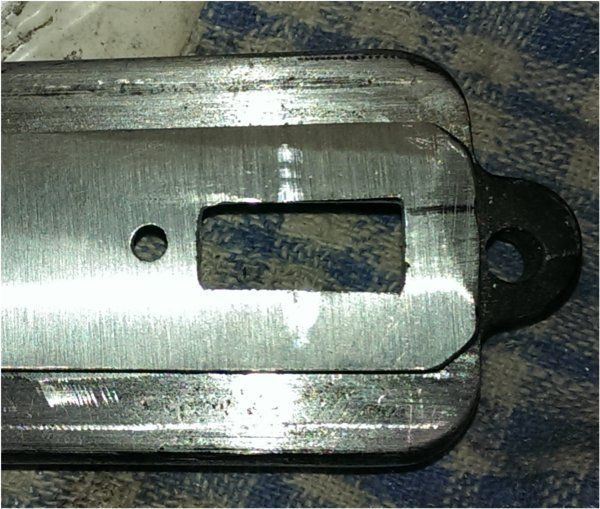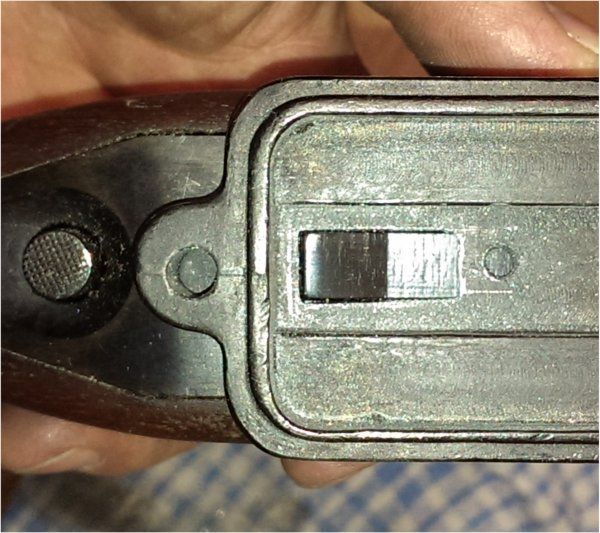 I also stripped, cleaned, dyed and waxed the original butt stock to match the fore grip and pistol grip, and soaked it over two weeks with linseed oil rubbed in, followed by dark shoe polish, and then buffed with a soft cloth.
Shape The Pistol Grip
I sanded and dyed the pistol grip to appear like an original, to save having to undo the awkward screws under the trigger mech to remove it. I applied the same false bolt technique with a cut down bolt with rounded ends, stuck in with wood glue, to replicate an original bolt.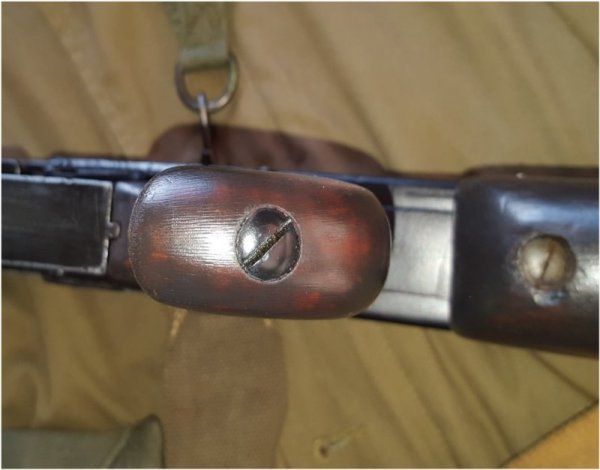 Hollow Out The Sight
By drilling and filing out the centre of the bolt/sight, you can easily replicate the original.
Bit of fine sandpaper on the receiver in key areas to replicate edge wear makes it look weathered.
And don't forget to drill the mag release lever!
So there you go, I'm pretty happy with the results!
Cheers, JB.