Camerati,
As Noted in the Thread on the last Victory against Gitlerism and continued containment of Reactionary Capitalism of the Military-Industrial Complex so it withers on the vine at Felixstan during October, an important addition was added to Direction RE OoB .....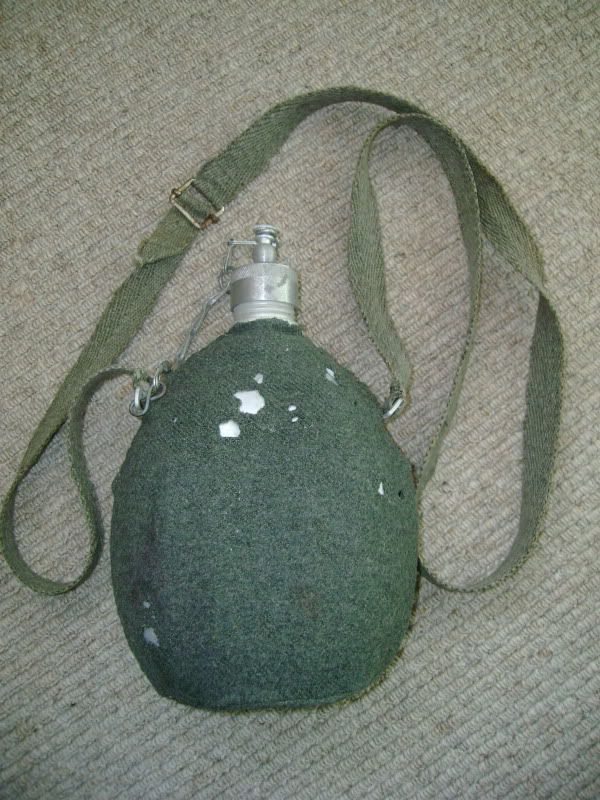 Borraccia Modello 33
...for the cost of only £22 soft imperialistic Sterling currency.
The damage to the Cover is most toothsome do you not think Camerati?.
The nice period wear and tear to the cover will add greatly to the legend building of this Rezidents Combat Missions on North Africa Fronts, the mint Historical Artefact used before is now held in an Archive Echelon of War Storeage Complex "Emil".
In addition, in the spirit of free speech and freedom of thought that is ruthless enforced by Moscow Centre's Internal Matters Organ's....
At the Detling Front it was ( declassified by Moscow Centre and released to be,) reported that a battered incomplete but sound Italiano Modello 33 Borraccia was given to this Command as a thank you, though the flask was missing Strap, Cover and Drip feed cap it was held still within a Trophy Collection Regiments OoB while a Design Bureau was immediately formed with the sacred task to find a use for this trophy.... for months, day and night the greatest minds within Progressive Reconstructionism have laboured under a special twenty five hour day formula( to improve productivity..... yet another example of the advantages of a Centrally Controlled Command Society ) and this is the declassified result..
Debris Borraccia Kettle, soldier made trench piece of fabrication.
A Kettle.....
Now this Complex is such that as Hero of People's if operation on a Fronts 41 to 43 that threw back the Italiano Expeditionary Forces it can be used using a Trophy for progressive use, as an Italiano in Desert 41 to 43 up holding the interests of Italiano culture or as Inglese Desert Army, a homemade bit of comfort kit made of a piece of battlefield debris which could have occurred.... it makes a useful Kettle with its own Pressure release device, boils real quickly.
( Historical Note, The SAS liked 44 Pattern Water Bottles to brew a "Wet" according to Moscow Centres Intel of their gangster methods...
)
Now this is a Gag, not Issue Equipment and will be used as such, carefully crafted to suit a Deployment Back Story..... Soldiers then were as as now, flexible and creative (more so I think) as any of us to make their sometimes most unpleasant ( as for many sadly, short) life's as comfortable as they could within their control, with what tools and materials they likely had to hand.
With such a Complex I can boil my brackish water for Steel Helmet/Bayonet ground Coffee on the march to Alexandra!... Avanti Pavia!.
_________________
"Wenn ist das Nunstruck git und Slotermeyer?, Ja! .. Beiherhund das Oder die Flipperwaldt gersput!"
( Lease lend material from Comrade Sandy Boots)
"We have internal enemies. We have external enemies. This, comrades, must not be forgotten for a single moment"
( Comrade Stalin, 1928)
"Who watches The Watchmen?"... The NKVD.
"The Devil came to me one night, he struck his claws into my hands, I prayed for him to stop but he wouldn't .....so I told him to F' off..... he did".
(An old Russia lady)
"We will fight for peace until there isn't one stone left standing on another".
(Soviet folk-saying)
"Gesplitzenblitz !" ( Peter Sellers)
"To err is to be arrested ".
"To forgive is not within the Scale of Norms".