Ok, here is a pic of my original Fighting knife. It is the one on the left.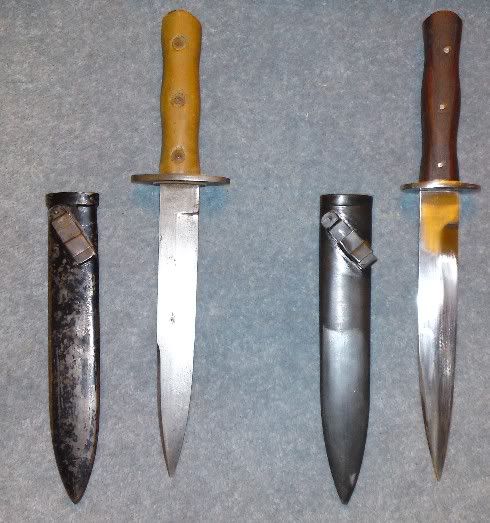 Ok, the one on the right is a repro M38 Fighting knife. Repro?... I hear you say.
Oh yes indeedy. They are available here,
http://www.ima-usa.com/product_info.php/cPath/159_160/products_id/912
However, as you can see, its not as spot on as one would like. The Handle is fine, but the rivets are too small. The hand-guard is not big enough, and the blade seems a little distorted, but for $35.... who's complaining!!!!
Another company also makes them, and they are in Italy. Here's a link..
http://www.teamone.it/teamone/pugnali.html
Their repro is slightly better, but at 250 euro's, it might be better to save up for a real one!!!! (Originals cost up to around £250, depending on the condition of it. be wary, as some repro's have been 'upped' to look like originals.
Just as a note, i believe that some Scabbards were produced with the fouled anchor emblem, and the legend 'R.M.' embossed on the front. These crop up very rarely, and are big bucks.
Another type of sort after fighting knife is the Art Deco handled fighting knife. It has a black bakelite handle, in the form of a stylised lion. This is a San Marco fighting knife, but i believe was reserved for officers. It is uber money for this. It is extremely rare.
Neil
_________________
MAI DAUR!
IF, and only IF, there is a war, we may provide you with a camouflage hood or cap in times of wet weather (Quote from the 1936 drill manual for the REI)

Telo Tenda Mimetico Modello 1929.

Keeping Farbs dry at night since 1978
Its a Tent! Its a Poncho! Its a Ground Sheet! Its a Camouflage against the enemy. My word, its even a waterproof sleeping bag! It is not, however, German.
M33 Elmetto. Good against shrapnel. Great for grinding coffee. For that superb sweat encrusted taste.[/size]
http://ww2italianreenactment.com/