Comrades,
Just had a chance to image the Early Great Patriotic War scale of Issue, Enjoy.
The Plash palatka is fitted with the Accessaries Bag containing Two Poles, one Wooden Peg, one Wire Stake and a Guy Rope .
The Greatcoat has been dismounted to show the complex of straps.
Main flap open, Mess tin in cover on top.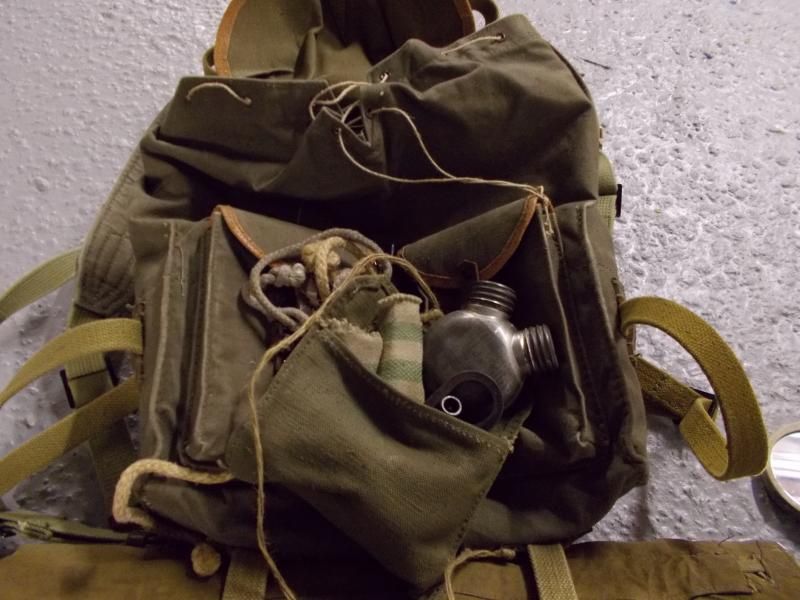 Contents of Front Pockets Vintovka Cleaning kit and some string ties for misc use.
Contents of Front Pockets Soap, Toothbrush and Tooth powder boxes with a hand mirror ( home made handle for it) and Carrier.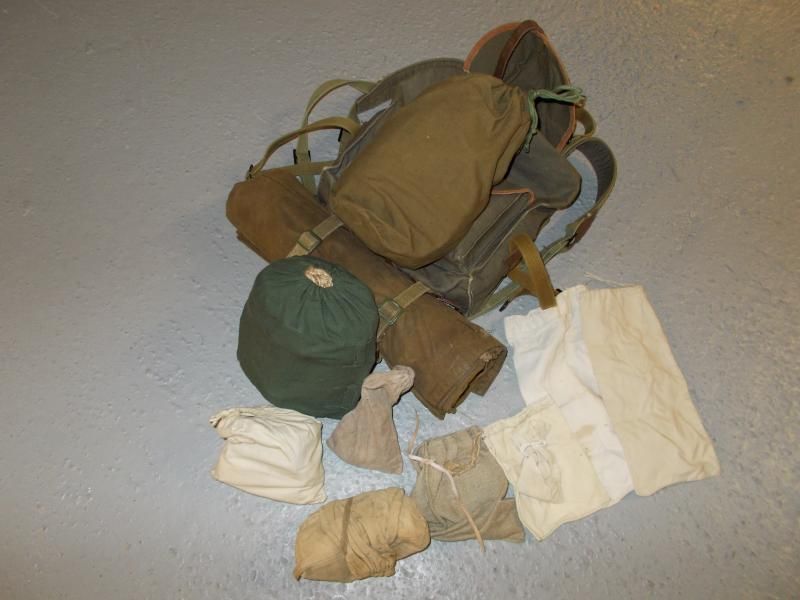 Main compartment unloaded, Wash Bag, Mess Tin Bag, Boot Cleaning Bag, Sewing Kit, Trench lantern in a bag and empty food Bags.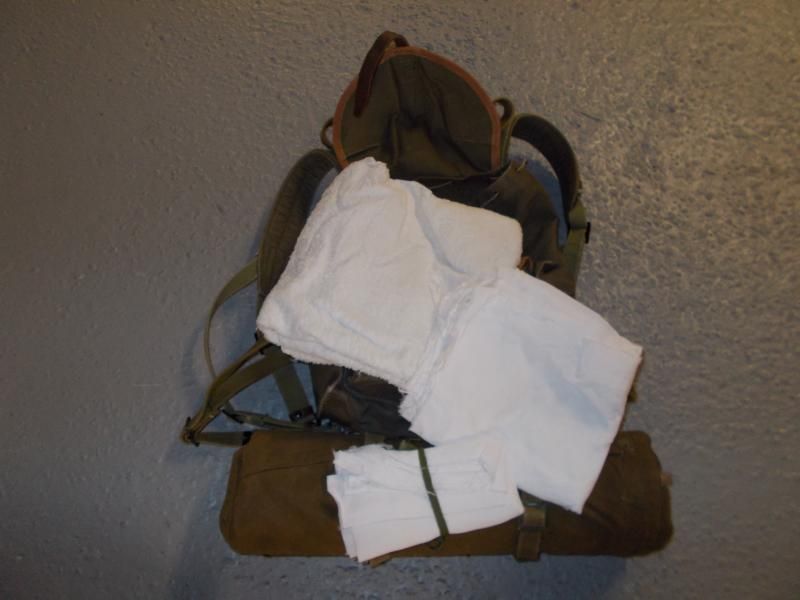 Internal pocket unloaded, Towel, Foot cloths, Material for Hankies or if unused Collar liners.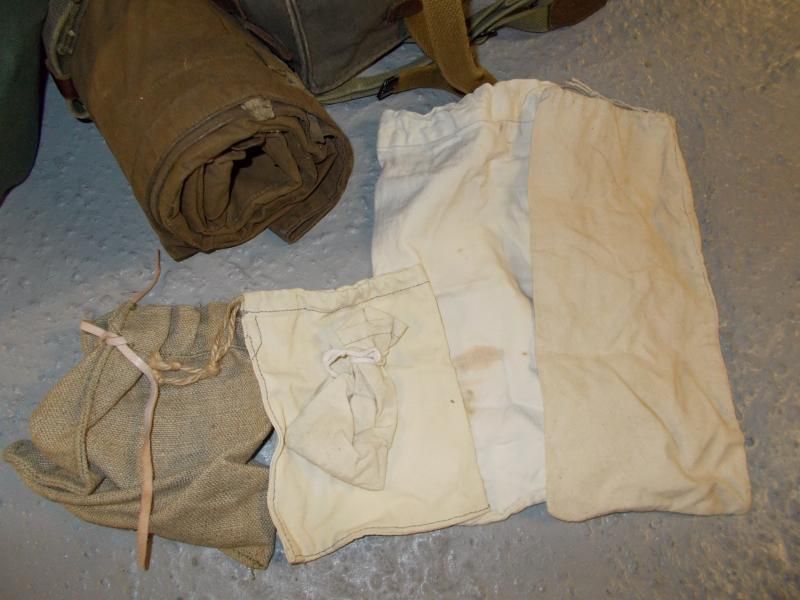 Misc empty Food Bags.
Boot cleaning materials and Trench Lantern (made from a Gitlerite 20 mm cannon cartridge) and a few candles.
Sewing Kit with a Nit Comb, some clothes pegs and Collar liner material.
Mess tin on Cover with Cup and Spoon ( tea spoon from home), Tea inside tin in the Cup, all padded not to rattle, Paper rapped round Mess tin to control noise and mess from cooking fires, Rag for handling hot Mess Tin.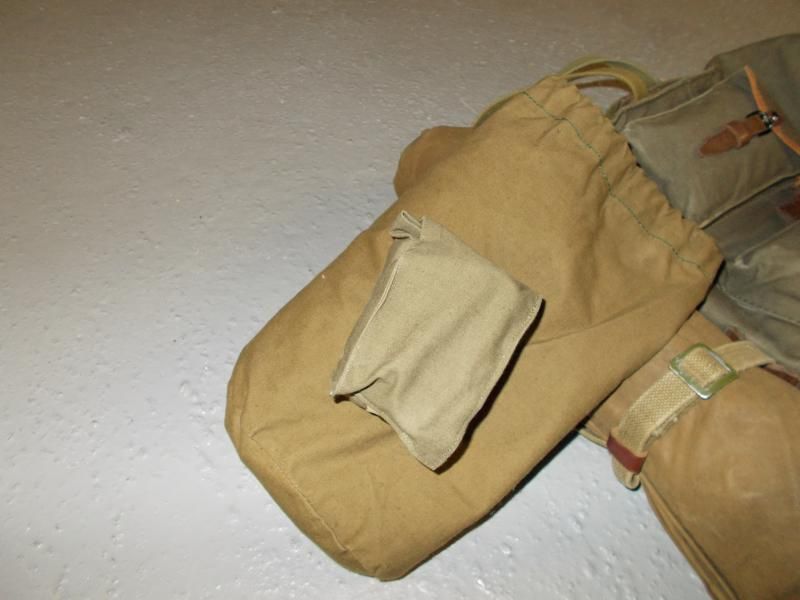 Wash Bag with Carrier for Raiser, Soap, Shaving brush and Hairbrush
By the way it makes a lovely little day sack for sking, which also makes it lose its Dreißig centermetre Gummi-Puppe straight from the " Bogdan" Dragon Figure's box, look as it works for a living and gets UV bleached and all scuffered.
_________________
"Wenn ist das Nunstruck git und Slotermeyer?, Ja! .. Beiherhund das Oder die Flipperwaldt gersput!"
( Lease lend material from Comrade Sandy Boots)
"We have internal enemies. We have external enemies. This, comrades, must not be forgotten for a single moment"
( Comrade Stalin, 1928)
"Who watches The Watchmen?"... The NKVD.
"The Devil came to me one night, he struck his claws into my hands, I prayed for him to stop but he wouldn't .....so I told him to F' off..... he did".
(An old Russia lady)
"We will fight for peace until there isn't one stone left standing on another".
(Soviet folk-saying)
"Gesplitzenblitz !" ( Peter Sellers)
"To err is to be arrested ".
"To forgive is not within the Scale of Norms".