Pistol Belts...
Top: British-made (note long tongue on male end of belt fastener)
2nd: WWI
3rd: 1944-dated OD7
4th: Nasco 1942 (note upside down U.S. stamping...)
Bottom: R.M. Co 1942, with almost japanned brass fittings
Rifle Belts: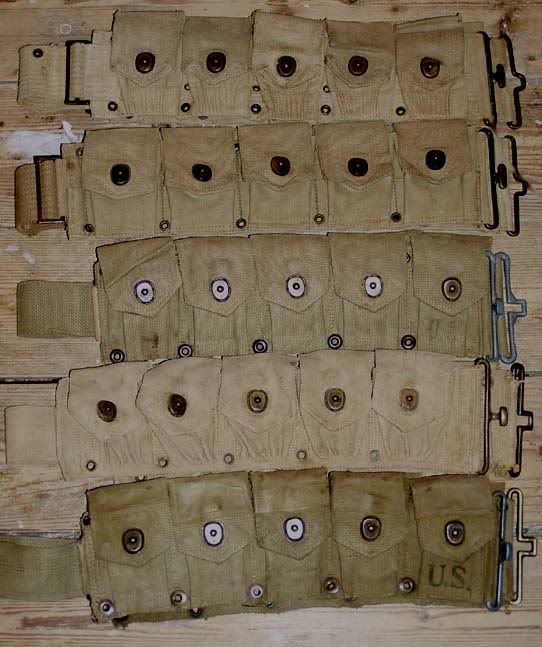 Top: M10 with puckered webbing pockets
2nd: M17 with flat canvas pockets
3rd: M23 bog standard WWII issue with cast buckles
4th: British-made in M10 style with puckered pockets. Note long tongue on fastener on male part of buckle.
Bottom: M23 with interesting repair/mod to all pocket flaps - a piece of thin canvas has been properly sewn to reinforce the flap tops. Odd. Male part of buckle is cast, female is brass.
Rifle Belt rear fittings:
Top: M10
2nd: M17 (note only single eyelet for M10 Doughboy Pack rear strap)
3rd: M23
4th: British-made.
Well-used camo-painted M17 Mounted Rifle Belt: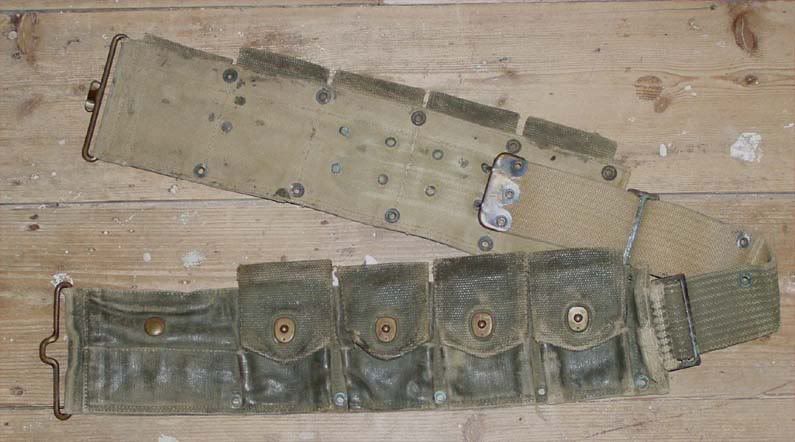 _________________
Glen Mallen
2nd Armored in Europe
:
http://www.2ndarmoredineurope.co.uk
D-505-PIR/2nd Armd :
http://www.d505pir.com
Look Out Below! :
http://www.look-out-below.co.uk/
"
The only thing stopping you, is you
"