Kepis are usually made directly at the regimental tailor workshop, meaning they can take your measurments. The point with modern kepis is that, unlike wartime ones which were stiffened by an internal heavy fabric like hessian, they have a plastic sheet stiffening that doesn't adapt itself to your head shape.
In order to get a well-fitting kepi, you need your head size
and
the visor lenght. So a size 59 kepi can have a rounder shape (seen from above) or a more oval shape.
Here is as far as I know the only website that offers made to order kepis for all branches of service:
http://www.kepi.fr/cadre.asp
You will want a "Képi Troupes de Marine Grade Capitaine"
Code: KPTDM40-Kepi-TDM-Troupes-de-Marine-Capitaine
Then choose your head size associated with the visor lenght, measured from one temple to the other (15.5, 16 or 16.5 cm).
(Troupes de Marine has been the name of former Colonial Troops since 1962).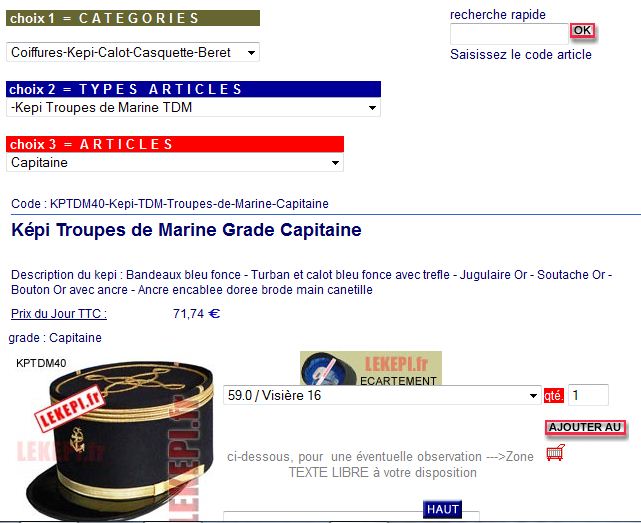 You might be interested in a side cap too:
http://www.compagnie-des-uniformes.com/fr/uniforme-tenue-armee/f1-79-coiffes/f2-81-calots/id-27731-calot-tdm