These are pictures taken by my father in law while he was on Sumatra. He was stationed at Pelambang with the RAF. Once the Japanese invaded some of them escaped across the island to be picked up by Allied ships and taken to India.
The pictures show a street scene and troops on a lorry. Can anyone help with identifying the location? Also can you confirm my presumption that the troops on the back of the lorry are Dutch?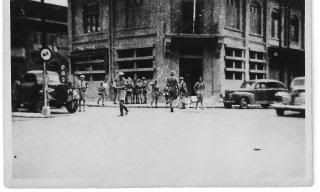 _________________
PBI portraying
15 Plt. C Coy 2 Batt. S STAFFORDS 1st Airlanding Brigade 1st Airborne Division
The Hallamshire Battalion Y&L Regiment 146 Infantry Brigade 49 Inf Division
TFSS portraying
Recce Plt. Column 44 (Essex), 23 Brigade, 3rd (CHINDIT) Indian Inf. Div.