Comrades,
The declassified Images of the Research and Development Directorate's completed Production quota .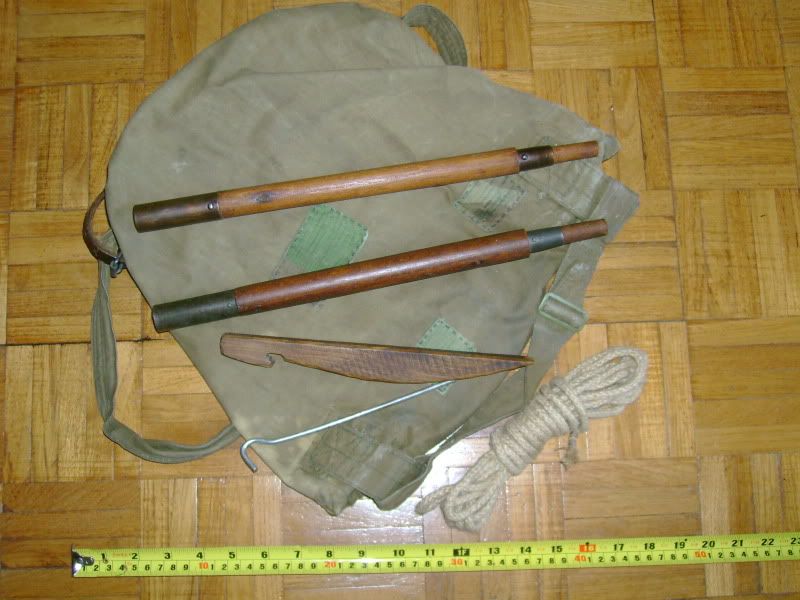 The Wooden Peg Complex is from a Production Centre from this Military District, the Wire Peg is from a Camping store, (lucky for them that their product already conformed to Moscow Centre's Norms, thus saving SMERCh small arms ammunition in the hunting down of Wreckers).
The Poles were a discovery, three years back at the Detling Front I recovered as trophies, thinking them only Fascist junk to be used and thrown away when no longer needed, during an audit of the Rezidency's Trophy Archive Storage Facility, these three Poles were found ( after interrogation), to having all the Dimension Norms laid down in the Progressive Historical Document declassified in an earlier posting by this Command.
The Archive Bureau Director and his Staff have been arrested for failure to identify possible State Property earlier.
After a period of rehabilitation by SMERCh the Poles were transferred to Rezidency's Regimental Direction of Interest 13.
The Guy Rope is from B and Q .....
All this was possible due to the advantages of a Centrally controlled Command Society.
Urrah!.
_________________
"Wenn ist das Nunstruck git und Slotermeyer?, Ja! .. Beiherhund das Oder die Flipperwaldt gersput!"
( Lease lend material from Comrade Sandy Boots)
"We have internal enemies. We have external enemies. This, comrades, must not be forgotten for a single moment"
( Comrade Stalin, 1928)
"Who watches The Watchmen?"... The NKVD.
"The Devil came to me one night, he struck his claws into my hands, I prayed for him to stop but he wouldn't .....so I told him to F' off..... he did".
(An old Russia lady)
"We will fight for peace until there isn't one stone left standing on another".
(Soviet folk-saying)
"Gesplitzenblitz !" ( Peter Sellers)
"To err is to be arrested ".
"To forgive is not within the Scale of Norms".