Let's see if I remember this right,
All Zorki I cameras (and later models) were built in the KMZ plant (Krasnogorsky Mekhanichesky Zavod) from 1947 to about 1990. They're almost straight copies of the 1932 Leica II.
The Leitz plant in Wetzlar was in the Western occupied zone (And hence them selling cameras to the US Army of the Occupation like my Leica IIIcK ).
At 50 quid you got a good one by the looks of it. The spots are probably just pin holes from the fabric/rubber deteriorating after 60 years, not so much from burn holes.
You can try and patch the spots on the curtains with a little dab of black fabric paint (or Liquid Electrical Tape), or as you say, keep the lens cap on as much as possible.
(Early) Kiev cameras were built using the original machinery, parts and tools taken from the Zeiss factory in Jena / Dresden in 1947 and moved to Kiev as part of war reparations.
On Bottom-feeders....errr -loading:
You really don't need the ABLON-template to cut the film leader, just make sure you cut straight and smooth and to cut in between the sprocket holes.
Alternatively, if you are feeling adventurous, you can:
Unscrew the lens,
Tension the shutter,
Set the shutter to 'Z' or 'B' or whatever it is on the Zorki,
Insert the film as far as it wil go.
Press the release button and keep it down.
Through the shutter opening guide the film into its final position.
Let go of button and screw the lens back in
My Zorki I undergoing curtain repairs: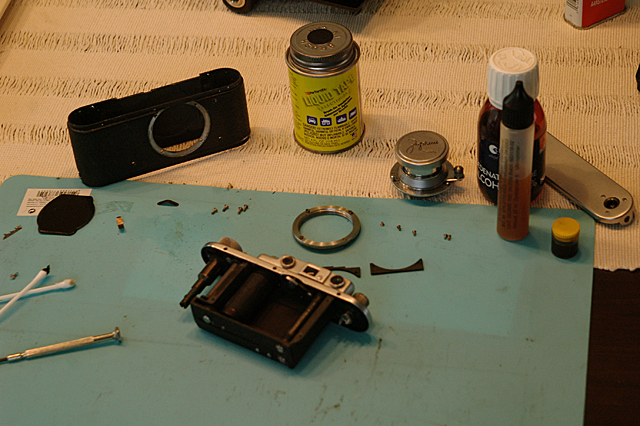 _________________
In Tabulas Argenteas Refero