Been doing some more research today in
Hull
. Went to the big Hedon Road Cemetary, right next door to the prison and the Maternity home (as was!) The Cemetery itself sustained major damage and even today some stones bear gouge marks and others ae missing, marked only by a foot high concrete post.
There are over 230 CWGC burials here, mainly WW1 but really worth a look at the civvy headstones which often list loved ones killed on active service and of course, civvy deaths themselves.
I still find it heartbreaking to see a whole family killed, or a grave marked by a male relative who has had to bury a wife and children, whilst he is on active service himself. Tragic.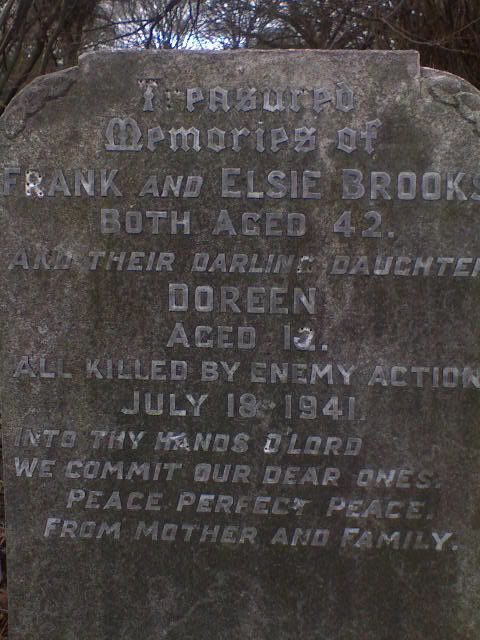 The Brook Family of Rustenburg st. A working class terraced area. It has not been redeveloped, if you look on google earth you will see a row of what look like gardens but are actually bombsites. I am visiting this week and will do some photos.
Below, May and her relative Phyllis Dixon, killed on the same night,
'11 Virgo Terrace, Westmorland Street. Daughter of Edwin Dixon; wife of Arthur Faulkner. Died at 4 Clough Terrace, Green Lane'
Interestingly, May was Phylis' daughter in law, whilst she was 33, her mother in law was only 21!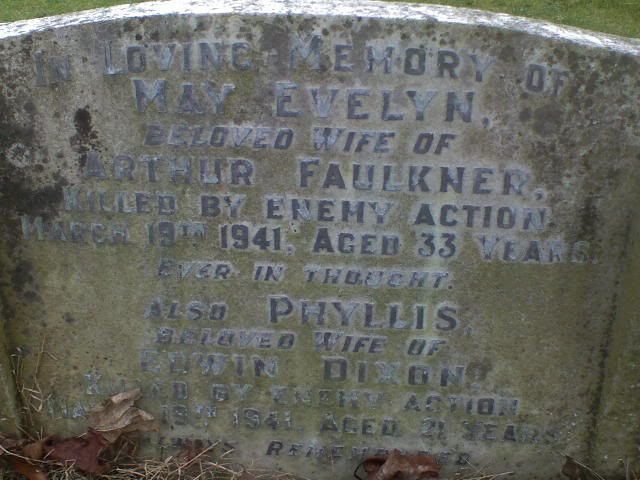 _________________
https://www.facebook.com/pages/Memorial ... 1996034455
https://www.facebook.com/edwardsshed
Be very careful about loaning original items...also, please keep an eye out for :
*Still missing* Because some folks are devoid of an ounce of honesty or integrity.
Women's Navy Great Coat
Green floor length 1930s evening dress with sleeves set on net.
Blue and white rayon dress with peplum
Black velvet halter necked dress with silver shot thread skirt (may still have Harrods label in it) I have photos of all of these items and I know where they are in Scunthorpe, but would appreciate a nod if they come up for sale. [/color]