Like this?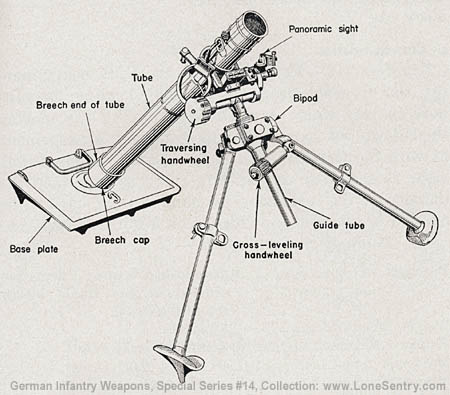 Try this site:
http://www.lonesentry.com/manuals/german-infantry-weapons/german-8-cm-heavy-mortar.html
German Designation: 8cm GrW 34 - Granatwerfer 34
Caliber: 81.4mm
Length of barrel (L/14.1): 1143mm
Length of bore: 1033mm
Weight traveling (3 loads): 64kg
Weight in action (steel barrel): 62kg / (alloy barrel): 57kg
Traverse: 10° to 23°
Elevation: +45° to +90°
Books:
German Trench Mortars and Infantry Mortars, 1914-1945", Wolfgang Fleischer. Schiffer Military/Aviation History
The best I could find...