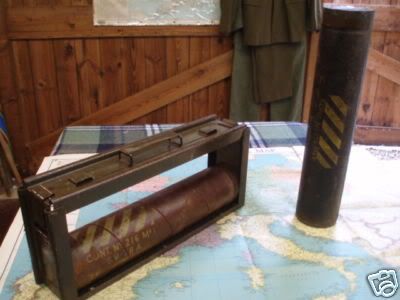 Does anyone have any information on the boxes that these came in? I know there was 4 types but I'm not sure why.
4 types of rounds (HE, Smoke, Chemical, Practice) were contained in boxes B166, B162, B161 or B160
Smoke observing, Chemical and Star were contained in B173
Sizes:
B160 20.5" x 14" x 10.7"
B161 20.5" x 14" x 10.7"
B162 21.1" x 10.75" x 14.8"
B166 19.8" x 9.1" x 13"
B173 21.9" x 9" x 13.2"
All boxes contained 6 rounds so it could have been any of them.
_________________
Old soldiers never die, they just smell that way
CSM "Are those your best boots corporal?"
Cpl "No sir, I have no favorites"
You want it when?